Selling is easy if you can offer the lowest price or a top brand that everyone wants. But what if you don't? What if the client says no? In sales, rejection comes with the territory. You will hear no, and you will hear it frequently. It's normal. What's important is what you do with that no . . .
The right attitude toward selling is your key to success. Passion, pride, and perseverance are your most important assets. NO Is Short for Next Opportunity will inspire you to develop the proper mindset for selling and to seal more deals.
Get yours now!
---
Endorsements
»This outstanding book goes straight to the heart of successful selling, showing you how to develop unshakable self-confidence in every sales situation.«
Brian Tracy, author of Ultimate Sales Success
»The title of Martin Limbeck's new book, NO Is Short for Next Opportunity, is an insight to his positive attitude and his sales brilliance. He lives his expertise, and this book will help you gain yours. A brand new way to address 'no' will lead you to more opportunities for 'YES!' This book is not an option for anyone who has ever heard the word 'no'—buy it and read it today and start getting 'yes' tomorrow.«
Jeffrey Gitomer, author of The Little Red Book of Selling
»This book is bigger than sales. It's a book about lifelong success. Your success.«
Randy Gage, author of the New York Times bestseller Risky Is the New Safe
»This book is a must read for all who aspire to succeed in sales—that is selling anything whether it is an idea, product or service. Top producers are not stopped by the word no. Hearing no only gets their engines going. No is a part of life and here is a secret, ready? Top producers hear more no's than yeses. You don't get penalized for the no's, but you do get rewarded for the yeses. Read Martin Limbeck's book and you will learn how to get past the no and realize your true potential.«
Ron Karr, author of Lead, Sell or Get Out of the Way
»Martin Limbeck has written a book all sales pros should read, whether beginner or top producer. He asks so many great questions and provides so many provocative insights and answers, this book will keep you going and growing throughout your career. I recommend it.«
Mark Sanborn, award winning speaker and author of The Fred Factor and You Don't Need a Title to Be a Leader
»Martin Limbeck takes the reader through a wonderful journey learning about topics such as focus, goal-orientation, and resolve. In his work, NO Is Short for Next Opportunity, this highly competent sales professional helps the reader not only with motivation, but with specific techniques to deal with selling in its various aspects. This book is good, not only for beginning sales professionals, but for the seasoned pros who need a reminder of what sales is all about.
I particularly liked the way he stressed the importance of personal responsibility. It is imperative for a sales professional to do the adequate homework necessary before any conversation. There is no shortcut for this and Limbeck provides many examples to show the importance of adequate and thorough preparation and how important it is not only in the sales process, but in life.
This is a book that is packed full of ideas the sales professional can go and implement immediately. It is a fun read and an important read. Do yourself a favor. Buy this book, or yet, and apply its principles today.«
Terry L. Brock, MBA, CSP, CPAE, syndicated columnist, Speaker Hall of Fame member and marketing coach
»Martin Limbeck is the most dynamic, straight-talking and trusted sales professional I have ever met and had the fortune of hearing speak. In this book, he cuts the nonsense and gets right to the core of what really works for successful selling in a competitive world. With his authentic and honest style he provides all you need to ensure you attract and keep customers, and have them talking about you for many years to come.«
Lesley Everett, creator of Walking TALL and personal brand coach/speaker
»NO Is Short for Next Opportunity is more than a book; it is a how to guide to win in the increasingly complex business of selling. Straight to the heart with proven principles that will increase your sales and keep your clients. A must read if you want to SELL!«
Dr. Joachim de Posada, author of the Don't Eat the Marshmallow…Yet! series
"NO Is Short for Next Opportunity is a sales guide you will want to apply to life. Compelling, complete, and courageous, this book will show you how to sell successfully to others and how to overcome the objections of even your most important client . . . you. I got new ideas and a new sense of hope from the very first page!
Monica Wofford, CSP, CEO, Contagious Companies, Inc. and author of Make Difficult People Disappear
»Selling can be hard. Or it can be easy. The product or service may be the problem, but more often closing the deal relies on the skills and attitude of the salesperson. Martin Limbeck is a master salesperson. In this book he shares valuable tools for making more sales. Martin knows that you can sell more with a story than a fact sheet. Invest your time and money with this book and you will sell more.«
Doug Stevenson, author of Doug Stevenson's Story Theater Method
»The pace has accelerated and so has the pressure. Sales professionals risk burnout if they don't keep their heads in the game. Martin's book helps them quickly move on to the NO—the Next Opportunity—without missing a beat. Avoid the downward spiral of paralysis and inactivity and get this book for your entire sales team!«
Laura Stack, author of Execution IS the Strategy
»Martin Limbeck gets it all right when it comes to attitude and mental toughness for salespeople. This book should be required reading for every serious sales professional.«
Steve Siebold, author of 177 Mental Toughness Secrets of the World Class
»Learn to think and act like a top sales professional from the guy who wrote the book on it. Oh yeah, this is the book! If you're truly ready to raise your sales game, this book is for you!«
Scott Friedman, author of Celebrate! — Lessons Learned from the World's Most Admired Organizations
»Martin Limbeck is a dedicated sales expert. I had the opportunity to meet him and enjoy his presentation at one of our sales meetings in Munich. He is very powerful and convincing, yet bold. What I like most about NO Is Short for Next Opportunity is the way Martin views selling. It is not a job with a negative connotation but rather a profession that deserves to be done with pride. As the book title indicates, a no is not the end of the world in sales but a beginning, because you cannot lose, you can only win. This represents a mindset that we need in sales. Martin puts things into the right perspective and reminds us that, armed with self-confidence, no sale is beyond our reach.«
Christian Gerwens, Regional Senior Vice President AMANZA (Americas, Africa, Australia, New Zealand), Miele
---
International Bestseller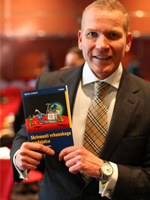 NO Is Short for Next Opportunity has gained a lot of attention internationally and received numerous rave reviews since its first publication in German in 2011. It has been ranked on the leading newspapers' and magazines' bestseller lists. In addition to English and German, the work was published in Slovenian and Czech. An Arabic version will be available in Saudi Arabia in the near future and a Mandarin version in Taiwan.
Martin is thrilled about the praise and feedback he receives from salespeople, entrepreneurs and CEOs throughout the world. And he's deeply touched by readers who share with him how NO Is Short for Next Opportunity gave them new impetus and changed their lives.
---
Sneak Peek: Foreword to Chapter One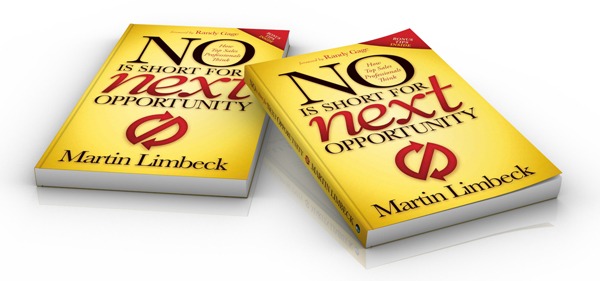 Click here for a reading sample
---
Bonus Features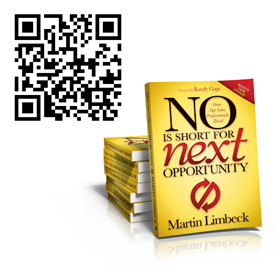 At the end of each chapter of NO Is Short for Next Opportunity, you'll find a QR code to scan with any QR code reader on your smartphone or tablet. Each code will lead you to a short bonus video where Martin provides additional tips, stories or examples from his experiences in the sales world.
In addition, Publisher Morgan James offers a free e-book via the BitLit app (for Android or iOS) with the purchase of each print book. (See details inside your print book.)
Take a quick look at the first of Martin's bonus videos included in the book:
---
Promotion
To download a 3D or flat cover image, just click on the links below.
---
Product Details
Paperback
Format: 200 pages, 5.8 x 0.5 x 8.3 inches
Publisher: Redline Verlag (November 20, 2015)
Language: English
ISBN-10: 3868816119
ISBN-13: 978-3868816112
Kindle (E-Book)
File Size: 864 KB
Publisher: Morgan James Publishing (August 15, 2014)
Sold by: Amazon Digital Services, Inc.
Language: English
ASIN: 978-1-63047-284-9