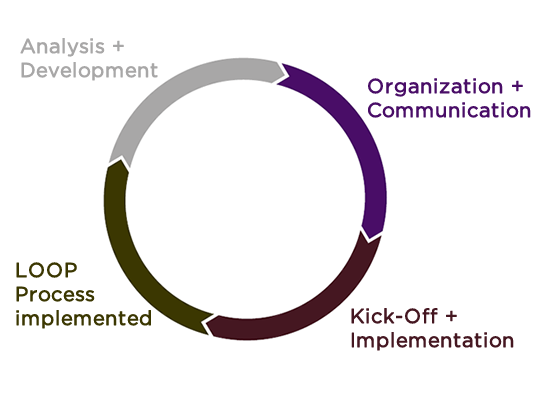 Cookie-Cutter Training Doesn't Cut It
With LOOP, we support your sales management and your sales team with individually tailored measures that will help them reach their sales targets, be it in inside sales, in the field, or in management. LOOP is not just a standard training program but a systematic process and a solution designed to raise the overall potential of your sales team.
Studies have shown: You require accurate analysis, precise planning, and a powerful strategy to be successful in training. That is why we study each phase closely, so that by the end the program fits you to a T. We cover all four phases in depth with you and offer regular follow-ups. Each training concept is precisely tailored to your needs. We stay on the ball where other trainers have long left the game, and we don't leave until your sales department is running on all cylinders. A one-time training run is not going to cut it.
Are You Familiar with the 10,000 Hour Rule?
A true expert, champion, or professional is born after about 10,000 hours of practice—or around ten years of hard work. Nobody gets to the top without sustained, consistent, and intense practice. We train and support you in this quest!
LOOP is a modular training process over a predetermined time frame designed to establish a sustainable and efficiency-boosting sales concept. Taking particular account of an American college study as well as a long-term study by a renowned consulting company dedicated to the efficacy of training methods, we have evolved the LOOP Process for our customers. LOOP stands out for its appreciable sustainability and measurable boost to productivity.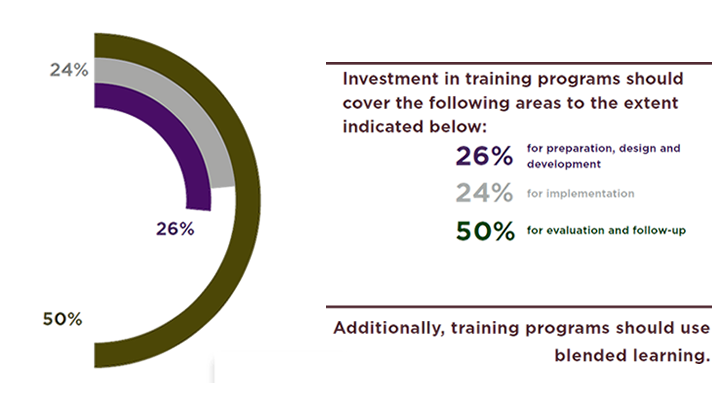 Customized Instead of "One Size Fits All"
We think little of offering you a training program with a fixed content. Are you looking for a kick-off event for your employees, followed by online-training, and a "telephone party" thrown in? LOOP is as distinctive as your company. You will be the one to determine which multiphased training methods will be implemented in your personalized LOOP Process.
The individual modules of the LOOP Process are adapted to the specific circumstances of the training participants and are adjusted, coordinated and supplemented by theme and content in the run-up to the training program. During these individual LOOP Process check-up days, it is determined which sales skills of your team need to be focused on: Our trainers will be on-site, evaluating in-house and field sales in your company, and when required will also conduct management workshops.
This approach ensures that the managers are always one step ahead of the employees being trained. Moreover, it guarantees an ideal preparation and support of the employees on the part of the managers in their role as sales developers. We will only leave once your team is fighting fit, take our word for it. So when shall we begin?
A noteworthy innovation of the LOOP Processes consists, among other things, in employing an individual learning needs assessment (carried out both from the participant's  and the trainer's point of view) to determine the current state of each participant's sales skills. These findings will enable us to adapt the courses to the participant's established level of knowledge and skill and thereby ensure the highest possible success rate for all concerned.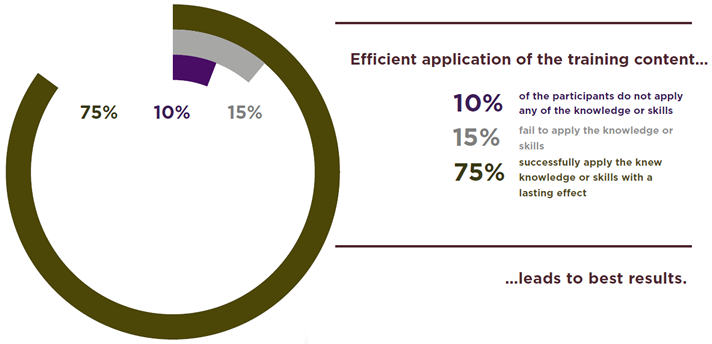 Good in Training, Bad in the Field?
There are top athletes who only achieve their best performances in training rather than in competition. So that your sales team makes it onto the top of the winner's podium, we support our participants optionally through our intensive on-the-job training program. Gained in the field to be used in the field: Our trainers help to tap the potential for optimization and together with the employees proceed to develop a series of customized courses of action, so that they can apply the training content to their daily "sales competition."
Furthermore we deliberately employ blended learning (a mix of face-to-face training, webinars, virtual training reminders, teleconferences, a trainer hotline available throughout the training period, a closed online user group, 360-degree feedback and much more) in order to address and support every learning style—according to their didactic predispositions—within the overall training process.
Would you like to learn more about LOOP? Feel free contact us and request a presentation with us.
Contact